Still to come
Critics of the Code of the Street paradigm
Primary researchers validating the Code of the Street paradigm
---
Elijah Anderson is an American sociologist. He holds the William K. Lanman, Jr. Professorship in Sociology at Yale University, where he teaches and directs the Urban Ethnography Project. Anderson is one of the nation's leading urban ethnographers and cultural theorists. He received his B.A. from Indiana University, his M.A. from the University of Chicago and his Ph.D. from Northwestern University, where he was mentored by Howard S. Becker.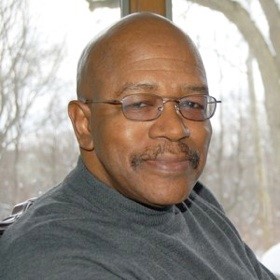 Anderson has written and edited numerous books, book chapters, articles, and scholarly reports on race in American cities. His most prominent works include Code of the Street: Decency, Violence, and the Moral Life of the Inner City (1999), winner of the 2000 Komarovsky Award from the Eastern Sociological Society; Streetwise: Race, Class, and Change in an Urban Community (1990), winner of the American Sociological Association's Robert E. Park Award for the best published book in the area of Urban Sociology; and the classic sociological work, A Place on the Corner: A Study of Black Street Corner Men (1978; 2nd ed., 2003). In 2008, he edited Against the Wall: Poor, Young, Black, and Male (Penn Press), which is based on a national conference, "Poor, Young, Black, and Male: A Case for National Action?" which he organized at the University of Pennsylvania in 2006. His most recent work is: The Cosmopolitan Canopy: Race and Civility in Everyday Life (2011, W.W. Norton).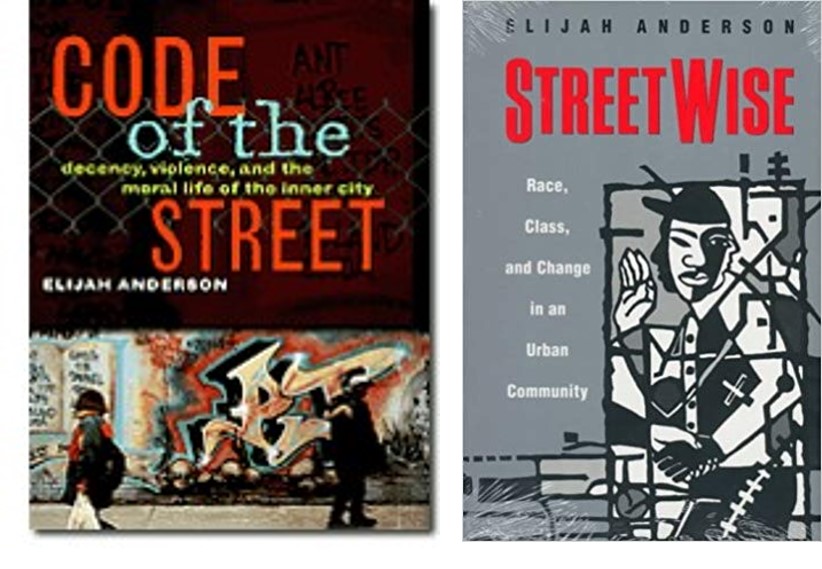 Ta-Nehisi Coates is a distinguished writer in residence at NYU's Arthur L. Carter Journalism Institute. He is the author of the bestselling books The Beautiful Struggle, We Were Eight Years in Power, and Between The World And Me, which won the National Book Award in 2015. Ta-Nehisi is a recipient of a MacArthur Fellowship. He is also the current author of the Marvel comics The Black Panther and Captain America.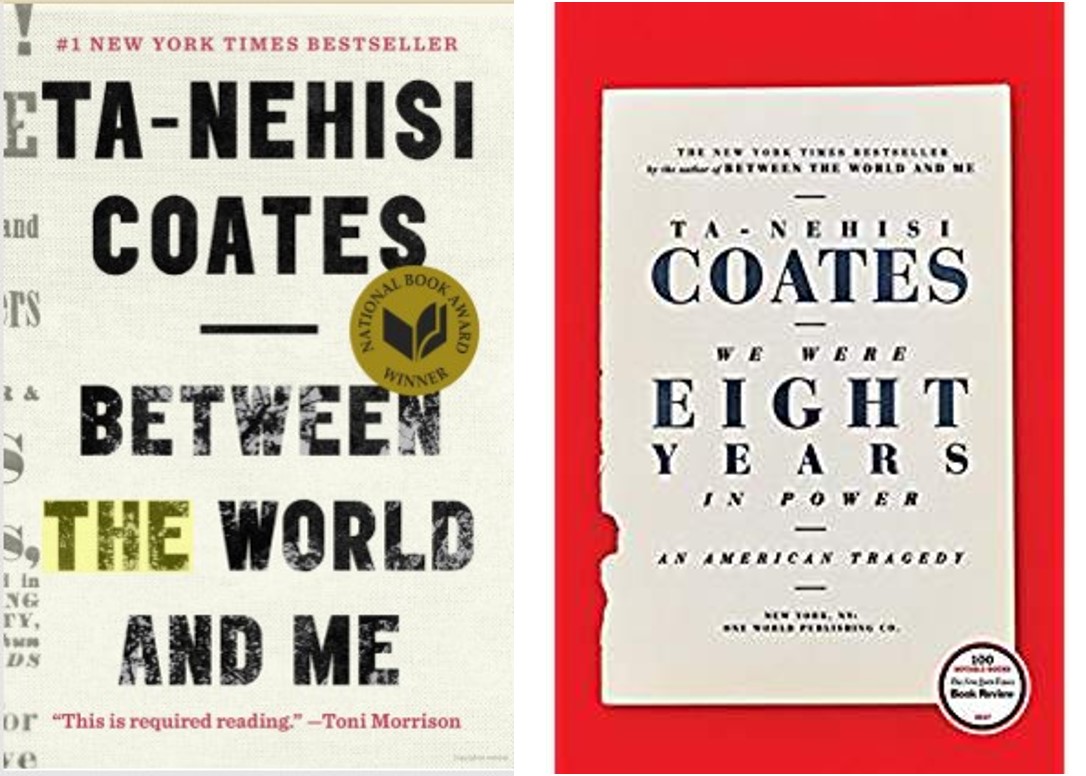 Jamie Fader
Dr. Fader is Associate Professor of Criminal Justice at Temple University.  Her primary research interests are in urban social inequality and crime; youth justice; corrections; desistance and prisoner reentry; life course sociology and criminology, especially the transition to adulthood; and qualitative research methods. Her current research includes: (1) an ethnographic study of masculinity, adulthood and crime among men aged 25-34 living in a high-reentry community in Philadelphia; (2) a series of long-term case studies exploring the life trajectories of young men of color who were incarcerated as youth and are now in their early 30s; (3) a randomized controlled trial (RCT) of Family Functional Therapy modified for youth at risk of gang-joining (FFT-G), funded by the National Institute of Justice.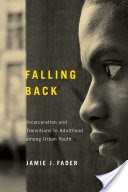 Dr. Kupersmidt is the President and Senior Research Scientist of Innovation Research & Training ("iRT"), which she founded in 1999. iRT's mission is to develop empirically validated assessment tools and intervention programs to improve the health and well-being of children, adolescents, and young adults. At iRT,  Dr. Kupersmidt leads a multi-disciplinary team that has received both public and private funding on a range of topics to conduct basic and applied research, as well as provide training and technical assistance services.  iRT has expertise in designing, creating, and rigorously evaluating products and services in the areas of youth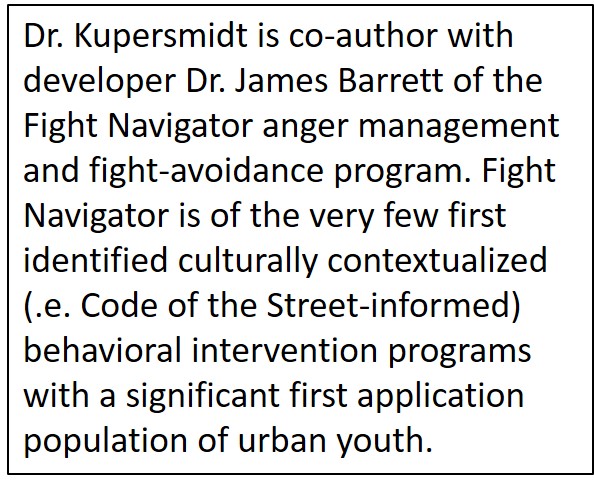 mentoring, social-emotional learning, media literacy education for substance abuse prevention and reproductive health, mindfulness education, web-based assessments of emotion recognition and social information processing skills, and psychoeducational group therapy with substance abusing delinquent adolescents.  The iRT research team led by Dr. Kupersmidt has developed two media literacy substance abuse prevention programs, Media Detective, for elementary school-aged children, and Media Ready, for middle school-aged children. Both programs are reviewed by the SAMHSA National Registry of Evidence-Based Programs and Practices (NREPP) related to substance abuse prevention efforts.

Dr. Barrett is an Instructor of Psychology in Psychiatry at the Harvard Medical School and a psychologist in the Cambridge Health Alliance Child and Adolescent Outpatient Department working primarily in school-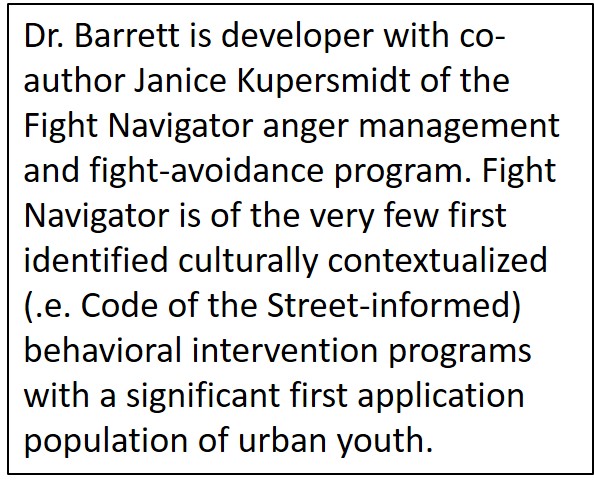 based health centers. He is the site director of the Safety Net psychology practicum and clinical coordinator of the Safety Net Collaborative in partnership with the Cambridge Police Department's Youth and Family Services Unit, Cambridge Human Services and Cambridge Public Schools. Dr. Barrett has presented at numerous national conferences on juvenile justice, gang violence, preventing retaliatory violence, and police-mental health partnerships. He has contributed to national meetings convened by SAMHSA, the MacArthur Foundation and the International Association of Chiefs of Police. He is a contributor to Adolescent Psychiatry, The Community Psychologist, Professional School Counseling, and The Handbook of Human Development for Health Professionals. He also has a private practice in Cambridge Massachusetts and can be contacted at: www.jamesbarrettphd.com.